ClickAndGo Wayfinding is partnered with
InTouch Graphics
, providing tactile maps that include both low vision and tactile features. Any individual, whether they have 20/20 vision, low vision or no vision, can use them effectively. Information for individuals who are mobility impaired can also be included, allowing users to easily identify and plan wheelchair accessible routes. 
Suitable for Every Venue
ClickAndGo Tactile Maps are appropriate for university campuses, schools for the blind, museums, hotel lobbies, downtown areas of cities, camps, libraries, and other sites. Our maps can be made to represent outdoor walking routes, indoor floor plan layouts, fire exit routes, and more. They are an attractive complement to any venue.
Quality Design and Construction
Our permanent installation maps are typically etched in magnesium, but can also be produced in bronze or other materials. They have a high contrast enamel paint and can include color features.
Labeled in Braille, they also utilize an easy-to-read tactile-visual symbol system and include large print, high-contrast displays. They can be designed with a directory of locations, as well as an X/Y coordinate system for quick tactile navigation.
Portable Options
In addition to permanent (or mounted) tactile maps, ClickAndGo also offers portable versions travelers can carry with them and use for pre-journey learning at home.
Our portable tactile maps are produced in swellpaper (encapsulated plastic). Although they can be as small as 11" X 17", they are more often designed in a larger collapsible format for ease of use.
Combines with ClickAndGo Navigation
ClickAndGo Tactile Maps are an excellent complement to ClickAndGo Navigation. Our tactile maps give readers a hands-on appreciation of the configuration of a venue and the spatial relationship between its landmarks, facilitating clear and confident navigation while following the application's audio narratives.
Read more about our tactile maps at InTouch Graphics.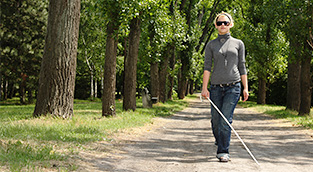 ClickAndGo Navigation combines real-time location support and narrative directions in a powerful, mobile solution for independent travelers.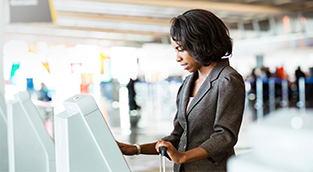 ClickAndGo Virtual Kiosks are a seamless complement to touchscreen kiosks, making the same venue and wayfinding information accessible to the visually and mobility impaired.