All ClickAndGo Navigation routes are available from the website via screenreader, text and MP3 download. Routes can also be accessed using our ClickAndGo iPhone App, or via the Interactive voice response service we make available for every venue.
Here is a sample of a route selected directly from our website. A blind reader would use their screen reader to listen to this route.
Location: Teachers College
Starting landmark: Thorndike Security Booth
Destination Landmark: Disability Services
"There are 2 directional steps to go from Thorndike Security Booth to Disability Services."
1. Position yourself with 120th street behind you, and the Thorndike security booth on your right side. You face a narrow driveway leading to Thorndike.
2. Walk to automatic doors 150 feet directly ahead. Pass through 2 sets of doors into the main lobby. Once inside, the disability services office is 40 feet away, towards 1 o'clock.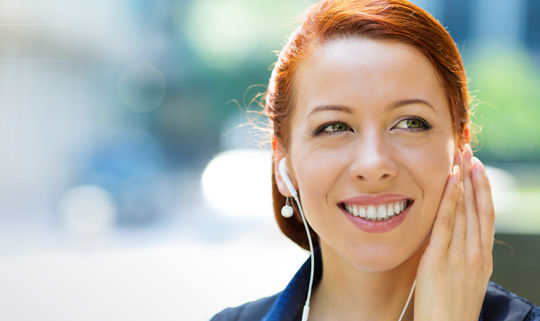 ClickAndGo App/Download Route Sample
Alternatively, users can opt to download our routes, available in both audio MP3 and text formats, from within the ClickAndGo mobile App. They can also be downloaded as MP3s from the appropriate venue's ClickAndGo Wayfinding website. Our file formats are compatible with all standard MP3 players, text players, and refreshable braille devices.

  App/Download Audio Route Sample
ClickAndGo App/Download Point of Interest Sample
Point of Interest (POI) descriptions are also made available along with the routes for a given venue, in both MP3 and text format.

  Sample MP3 Point Of Interest File
"The Disability Services Office is located on the 1st floor of Thorndike.
Directions are available from Amsterdam M-11 Bus Northbound, Amsterdam M-11 Bus Southbound, Broadway M-4 Bus Northbound, Broadway M-4 Bus Southbound, Downtown #1 Train, Uptown #1 Train, Thorndike Security Booth and Zankel Security Entrance."